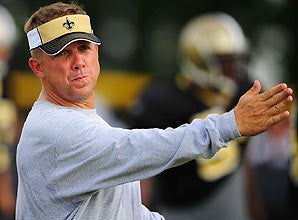 Thanks to Fan IQ (via Times-Picayune), we've been alerted to the boyish Saints head coach's creative aspirations and the movie script he's shopping tentatively titled "The Xbox Kid."
Payton's tale "is about a boy from a poor family in New Orleans who starts controlling the outcome of NFL games through a refurbished Xbox given to him by his grandfather following a devastating hurricane." Poignant.
He's turned over his script to a professional screenwriter to spruce it up after two summers of "piddling around with it." It sounds kind of like "Amazing Grace and Chuck" but instead of nuclear weapons there are hurricanes and instead of Alex English there is XBox. But what better way to bring the tragedy of Hurricane Katrina to the big screen then a fable about a boy and his magical video game console. I hope this gets made and spawns many, many sequels so we can see how Payton's "Xbox Kid" can inspire the rest of the world coping with national tragedies.
Saints Coach Sean Payton Shops Movie Idea To Hollywood [Times-Picayune]