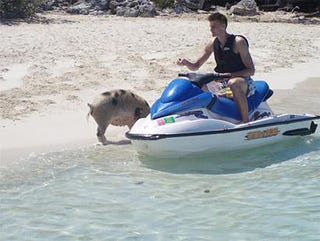 There's so much absurdity in this little tableau that the fact Andrei Kirilenko is on a jet ski is probably the most normal thing about it.
The crack reporting team at KUTV dug up the photo (which comes to us via SLC Dunk). Take it away, Dan Sheldon:
So Andrei Kirilenko, a jet ski, and a pig walk into a bar… I don't have a punchline for it yet but I do have the picture thanks to a friend of mine on vacation in the Bahamas at the same time as the Jazz forward. Apparently the wild pigs run out of the woods and down to the shoreline whenever they hear an engine because so many people have fed them over the years.
AK-47 may be a few rounds shy of a full magazine, but say this for the man: He is physically incapable of taking a dull photo.
*******
Thanks for your continued support of Deadspin. Enjoy Levon.