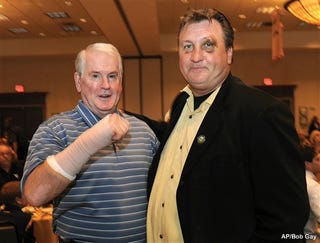 Huggins, the bail bondsman who coaches college basketball games in his spare time, showed up to a fundraiser wearing shiners on either eye. The explanation? He lost a fight with his bathroom door. It happens.
Here's Dominion Post photographer Bob Gay's caption:
West Virginia University athletic director Ed Pastilong, left, and WVU basketball coach Bob Huggins are shown Sunday, June 7, 2009, at a fantasy camp basketball banquet in Morgantown, W.Va. Huggins kept his sense of humor as he sported two black eyes and a welt. He says he stepped into the edge of his bathroom door late one night. Pastilong's right hand was in a cast from recent surgery.
This is, shall we say, a touch less than believable. We've all had our bouts with doors, sure, but I've never punched one that actually hit back. Twice. In both eyes.
I hereby nominate the door as the defining metaphor of the 2009-2010 college basketball season.
Bob Huggins attends fundraiser dressed like Ricky Hatton [The Dagger]