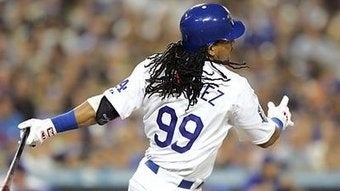 Oh, Manny. Hiding in the Green Monster, cutting off cutoffs, popping women's fertility drugs and, on Tuesday, surprising everyone by showing up in the Dodgers clubhouse. Well that's not exactly allowed, ESPN's Buster Olney reports.
Ramirez's suspension restricts him from addressing reporters, but to be fair, what Ramirez said could hardly be called that. He doesn't want to be a distraction, he apologized to the people he needed to apologize to, he wants to move on, he's ready to leave it all out on the field and let his game speak for him, he wants to give 120 percent, he's looking forward to having fun with his teammates, he's beginning to lactate, etc. etc.
Is he sorry for what he did? "That's what I said," he answered. Must have missed that.
And Manny wouldn't Be Manny if he didn't drop some perspective on everyone before leaving:
"I didn't kill nobody, I didn't rape nobody, so that's it..."
Give the guy a break already.
Manny Ramirez visits with teammates [ESPN]
Ramirez speaks but says little about suspension [LA Times]