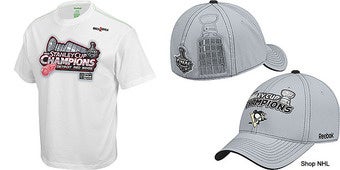 Conspiracy theorists are apoplectic after learning that Red Wings' 2009 Stanley Cup Championship gear is already available for sale on the NHL website, but the cooler heads at Puck Daddy have already proven that the Penguins got the same treatment.
Also, it isn't really for sale yet. The web pages—like the shirts and hats that are given to the winning team in every sport—were created ahead of time and someone just figured out the code in their system. All is well.
If you really want to solve a mystery, figure out how Rob Scuderi blocked three shots in the crease in the final seconds without committing a penalty. He's like the American Doug Henning or something.
Shop NHL already has Pens, Wings Cup champs gear on sale [Puck Daddy]