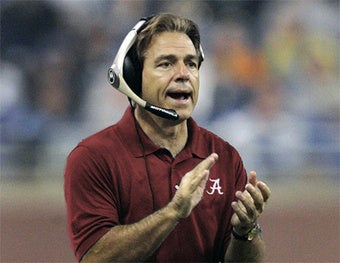 Alabama's football program will be placed on probation today and be forced to vacate at least 10 (and as many as 21) wins from the 2005-07 season. That ... hurts?
Five players were suspended from the team in 2007 after it was learned that they used their scholarship benefits to gain free textbooks for other students. However, since the violations allegedly started in 2005, any victory from those three seasons that those players participated in would have to be vacated. The school will also be on probation for three years and have to pay a fine. Oh well.
As we (and others) have harped on before, vacated wins mean nothing. They don't take back the booster money or season ticket packages that those wins generated. There's only one way to truly hurt an athletic department—take their scholarships—and the NCAA will not be doing that, even though Alabama is a multiple repeat offender. This particular offense is very minor and so is the punishment—even if the NCAA probably wants you to think otherwise.
NCAA to force Alabama to vacate wins, won't require future scholarship losses for football, a source said. (Updated!) [Birmingham News]
Headlinin': Welcome back to ineffectual probation, Alabama [Dr. Saturday]
Report: Alabama Crimson Tide to vacate football wins [ESPN]
Tide won't lose scholarships as part of sanctions [Atlanta Journal-Constitution]