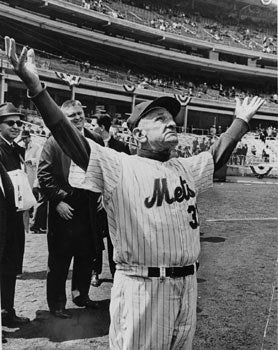 Bad news, Mets: Women and anyone younger than 45 hate your guts. It's true! The New York Times took a poll.
The survey of New York residents, conducted by the Times with Cornell University and NY1 News, reveals the following:
Over all, the Yankees have more fans than the Mets citywide by a 9-point margin, with 34 percent of New Yorkers in the city supporting the Yankees, 25 percent favoring the Mets, 34 percent saying they do not have an allegiance to either team, and 6 percent considering themselves fans of both teams.

Demographically, the poll found some differences between Mets and Yankees fans. Women are more likely than men to say they do not support either New York team, but over all, women who are fans are significantly less likely than men to back the Mets.

City baseball fans under the age of 45 favor the Yankees over the Mets by a 2 to 1 margin, but those 45 years of age and older are evenly divided in their support.
In the "shouty dickhead in a replica jersey" demographic, the teams split the vote.
Poll Finds Yankees Win City's Popularity Contest [The New York Times]