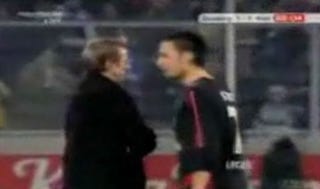 In this undated video, we have an exciting footysoccer game with brilliant ball control, superb balance, and absolutely no match fixing whatsoever. What else do you need?
How about a disagreement between a player and a coach? Well, yes, that might liven things up. There they are, head-to-head, expressing their opposing viewpoints quite brilliantly, and there's the contact ... oh, my. That was a brilliant finish.
I'm still trying to wrap my brain around that one. Did each of them apply nonlethal doses of Valium to their foreheads?
Afterwards, two free throws were awarded to LeBron James.
Double Headbutt TKO [FanDome]