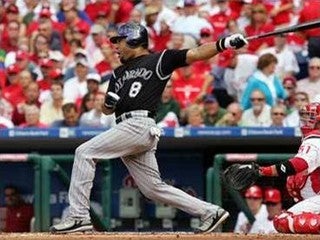 All is well now that Yorvit Torrealba's son has been rescued from kidnappers in Venezuela and brought to the United States, but the hardest part of the boy's ordeal was trying defend Dad's .220 batting average to his captors.
Torrealba spoke to the media this weekend and gave more details about the recent scare back in his home country. He had to sneak back to Venezuela and sit quietly by while his wife handled the negotiations. The kidnappers wanted $500,000 for the return of his son and two of the boy's uncles, but as police stalled and pretended Yorvit could not get away from the Rockies, they lowered their demands and eventually released everyone without getting any money. Perhaps they realized they were dealing with a resolute and determined adversary....
... Or the backup catcher for a sub-.500 team:
Torrealba said his son was treated well by the abductors, who joked with him and even made him mad when they criticized Torrealba's play with the Rockies.

"He was actually arguing with one of the guys because the guy said his dad ... he's hitting .220," Torrealba said. "Obviously now it's fine. I told my son, it probably was the truth. I was hitting .220."
Police have not arrested anyone and suspect the kidnapping may have been an "inside job," but maybe next time they'll pick a target with a higher OPS.
Torrealba discusses son's capture and return [Denver Post]
Torrealba reunited with son after kidnapping [AP]
Rockies Catcher Yorvit Torrealba Speaks About Kidnapping Ordeal In Venezuela [CBS4]