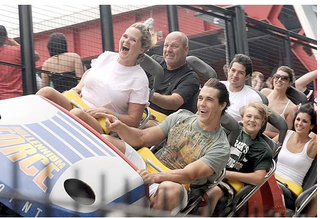 Got an image you'd like to see in here first thing in the morning? Send it to tips@deadspin.com. Subject: Morning crap
The Sandusky Register has wall-to-wall coverage of Brady Quinn day at Cedar Point amusement park in Ohio. Inside you'll find plenty of photos of Quinn all jacked-up, signing autographs, posing for pictures, and a video segment where one 17-year-old girl stands in a blue bikini and loses her shit as Brady struts on by. She starts bawling on camera and admits to almost having an asthma attack when he walked out because "he's so beautiful" and she has told all of her friends that "she will marry him."
Engaged or arrested? Engaged or arrested? First big decision Quinn will have to make as quarterback this year.
******
Good morning. It's Monday. Let's go.