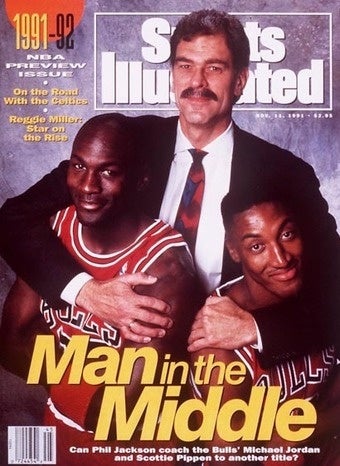 Phil Jackson now has more NBA titles than any coach in NBA history—so he's the best coach in NBA history, right? Or could a diaper-wearing monkey win six titles with Michael Jordan on his team? Fight!
Ok, no one believes he's completely devoid of talent, but did he maybe get a boost from having three of the greatest players ever come under his wing? NBA coaches in this era seem to be praised mostly for their ability to not get in the way of their players—and he does seem to be the best at not being the way. But do his ten titles over two decades compare to the absolutely dominance of Red Auerbach and his Celtics. (He did have Bill Russell for Pete's sake.) Let's ask someone who would really know ... Red Auerbach's son!
"Not to take away from Phil, but it's a different record," said Randy Auerbach, who lives in Los Angeles. "You're talking about a record with one team in which he won the first one and then won in eight consecutive years. Phil did it with two different teams and it wasn't consistently. It's about quantity. If that's his case, good for him.

"But it has to be broken down. It's a different record. How do you compare eight in a row, nine in 10 years?"
Good point, Randy! Now, let's ask some people who aren't completely in the tank for their old man.
Mark Woods, The Guardian
This championship may be Jackson's finest hour. Pau Gasol is no Scottie Pippen or O'Neal. Even the late Auerbach could not dispute the role Jackson has had in reshaping the Lakers from the 34-win crew that stumbled through his gap year. Twelve months ago, the Boston Celtics demolished and demoralised their old rivals in the finals. Someone had to pick up the vanquished and dust them off. Two hip replacements mean that Jackson is no longer jumping up and down on the sidelines as he once did in Chicago. Yet quietly, in his own understated manner, he has done what he always did: prodding and cajoling when required, but otherwise letting his players utilise the talents within.
I don't know if he's the greatest coach of all time, but Phil Jackson is in the conversation. I mean, you win 10 championships — that's pretty impressive. But I don't think he's coming back. Phil's done. I just think he's had enough. He's definitely gone. That's just my opinion, though.
Brian McCormick, The Crossover Movement
For some reason, we expect our coaches to yell and scream. We want to see them coaching in order to believe that they have an impact on the team. When Phil Jackson sits calmly through a game and trusts his players to make the right play, somehow that diminishes his coaching ability or reputation. This public criticism permeates every level of basketball. New coaches watch the games and listen to a player pop-off about Jackson's non-coaching, and suddenly he adopts the opposite approach with his son's under-10 team, pacing the sidelines, yelling at players, calling plays every time down court, questioning officials, etc.
Larry Brown (no, not that one), Larry Brown Sports
But even if the 10 rings suggest something else, I'd still have a hard time saying that he's the greatest coach in the game when a guy like Gregg Popovich is around
Kevin Ding, Orange Country Register
He is a champion again, but he is an altogether different champion. "He has become a giver rather than just a guy who is a demanding leader. And that's been great for him and great to watch." It pushed Bryant forward even further in prioritizing his teammates' development.
(Sorry, that was written about Kobe Bryant, believe it or not.)
Harvey Araton, New York Times
True, Jackson inherited the ringless Michael Jordan in Chicago and later Shaquille O'Neal in Los Angeles. But as Jim Cleamons, a longtime Jackson assistant, said: "Every situation that Phil has coached in, the team hadn't won before he got there. That, too, is a fact."

I always believed that Jackson, with three titles at the time, certified his greatness that season [1993-94], when his Airness-less team might have gone to the finals had a referee, Hue Hollins, not made one of the worst bailout calls (for the Knicks' Hubert Davis, against Scottie Pippen) in the history of the sport.
T.J. Simers, LA Times
Phil obviously has a knack for working with headstrong, gifted athletes, and have you noticed the softening in Kobe's demeanor the last few games? It has been striking....

No question he's different now from where he was when this series started, history suggesting it's probably the Zen Master at work again — his calmness wearing off on others, and at the same time making it almost appear as if he's doing nothing. And no one does nothing better than Phil.
They're as different as Yoda and Danny DeVito, the Grateful Dead and Weird Al Yankovic, a complete.....
What? Oh, nevermind. Phil Jackson: He's a pretty good coach.