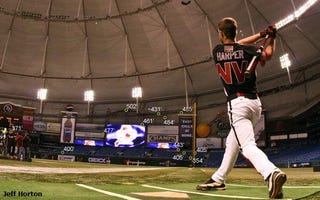 Chosen Person Bryce Harper, a rising high school junior, has elected to skip his last two years of high school, get his GED and matriculate at the College of Southern Nevada. Cue the Doogie Howser song.
Harper, who hit .62freaking6 with 14 home runs and 36 stolen bases in high school ball last season, will play for the CSN Coyotes and — most importantly — should be eligible for the amateur draft next June, as a 17-year-old. Chosen Sibling Bryan Harper, a lefty pitcher, is transferring from Cal State Northridge to join his brother at CSN, which seems marginally less weird when you consider that Bryan's ERA floated well north of 6 last season.
Tom Verducci's Sports Illustrated story a couple weeks ago indicated that the Harpers might try something along these lines. In an interview with the Las Vegas Review-Journal, Bryce's father, Ron, insisted the GED gambit was Bryce's call in the end, though there shouldn't be any doubt that this was the handiwork of the family's adviser, Scott Boras.
In fact, Ron Harper already seems a touch defensive:
"Bryce is always looking for his next challenge," Ron Harper said. "He's going to pursue his education, too. He's going to get pushed academically and athletically.

"I don't see a problem with it. I think we've handled it the right way. I think it will be a great story."

[...]

"There are going to be critics. I can't worry about what people think. People are going to see what they want to see and say what they want to say," Ron Harper said. "I think this prepares him for life, playing the game of baseball.

"People question your parenting and what you're doing. Honestly, we don't think it's that big a deal. He's not leaving school to go work in a fast-food restaurant. Bryce is a good kid. He's smart, and he's going to get his education."
If the father's response is any guide, the Bryce Harper story seems to be quickly and prematurely curdling into some Marinovichian cautionary tale. This will be an awesome spectacle, when sportswriters turn on the very legend they helped create.
Harper ready to give college try [Las Vegas Review-Journal]
EARLIER: Tracking Bryce Harper's Moonshot