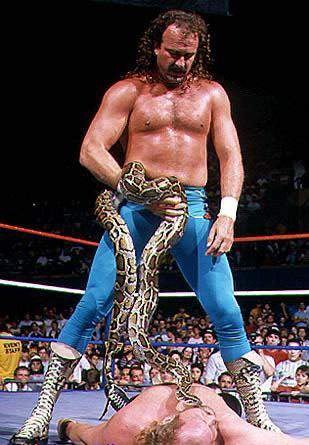 Here's your reading material for tonight: "The Urban Legends of Professional Wrestling!" — all 460 of them. If you thought pro wrestling was a wholesome endeavor whose practitioners did not enjoy stuffing the Medellín Cartel up their nostrils, think again.
None of this is true (at least, I hope it isn't). Most of this is libelous. All of this is tossed-off, accidentally brilliant Internet goof at its finest. A sampling:
26. Rip Rogers pulled Barry Windham's keys out of a commode filled with shit and Jack Daniels after a particularly hard night of partying with his bare hands.
55. Kevin Von Erich, once paid a hooker to break in a then 11 year old Chris von Erich. Supposedly, Chris even cried during the act.
60. Sheik Adnan Al-Kaissey describes seeing Andre screwing - "like a lion raping a rabbit".
122. Nino De La Calle was no gimmick. Pena found him at the age of 14 and let him be a wrestler in exchange for... well you guys can figure it out.
192. Brian Pillman was a definite racist.
454. Jake Roberts was prone to traveling with a big pink dildo in his gear bag for himself.
And my favorite, which blows your mind anew with each successive word:
448. William Regal hates the US but is forced to work here out of fears of prosecution in the UK; it seems he was a middleman in the whole Queen Elizabeth drug dealing thing Lyndon LaRouche exposed in the '80s.
You know, that whole deal.

The Urban Legends of Professional Wrestling! [OOWrestling.com]
*******
That's all for today. Thanks for your continued support of Deadspin.