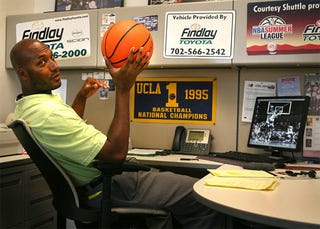 This is an interesting Sunday profile of former UCLA star Ed O'Bannon. Interesting, because you could probably substitute "Ed O'Bannon" for the name of any athlete coming to terms with his fading glory and it's pretty much the same article.
O'Bannon, who won the Wooden Award and the National Championship for the Bruins in 1995, was a lottery pick for the New Jersey Nets, flamed out of the NBA after two years, spent the better part of a decade bouncing around the leagues of Europe, then finally hung up his sneakers and went home. Now he sells cars for a living, not because he needs the money, but because he's a 36-year-old who spent 30 years of his life playing basketball and had no idea what to do with himself once it was over.
Ed admitted that he struggled quite a bit with the idea that a former college basketball great was reduced to hawking Toyotas for a living, but he's actually handled the transition better than most. He didn't blow all his NBA earnings or come down with a drug habit and he's still married to the girlfriend who sat beside him at the NBA Draft. But what does that say about the guys who can't handle it? Or the guys who didn't have four years of college under their belt like he did? Like the co-worker who gave him a wake up call:
Eric Ludwick, who had been at Findlay [Toyota] for two years when O'Bannon showed up, was a former UNLV pitcher who spent parts of four seasons in the major leagues. Like O'Bannon, he entered pro ball as a phenom — he was a second-round draft pick in 1993 and was once traded for Mark McGwire — and like O'Bannon, he had been forced to go overseas, in his case to Japan, to make a living after flaming out in the United States....

Ludwick, 37, said it took him about two years — two dark, depressing years — to make the adjustment, and it came at a steep cost.

"My marriage was pretty much wrecked because of it," he said. "I wasn't fun to be around. You grow up from age 4 or 5, playing T-ball, and you're always the best player in your league, and in Little League you're always the best, and in high school and college. Then you go to the minor leagues, and you're this bonus baby. When it all gets taken away — it really didn't hurt my ego. I just felt like people give up on you. It was almost anger, like, 'How could you do that to me?'

"I've gotten to the point where it's so far in my past I can go about my day-to-day life without thinking about it. But there was a point when it consumed me. It's something I probably should have talked to someone about, because I spent nights just laying there and thinking about it. By losing it all, I figured out how to conduct myself on a daily basis with other human beings."
And these are the guys who made it. (Cautionary tale!) By the way, the Findlay in Findlay Toyota is Cliff Findlay, the former UNLV basketball player who founded Findlay Academy, the non-school basketball school that turns impressionable high school kids into people like Ed O'Bannon. So at least when they burn out ten years, they'll be able to get a job selling cars.
Ed O'Bannon Has Gone From the Hardwood to the Sales Floor [Washington Post]
High School Basketball Without The High Schools