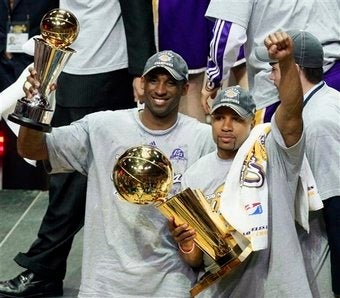 We all had lots of fun joking that Pittsburgh was a bankrupt urban hellscape, but at least the city could afford to throw its hockey team a victory parade. Los Angeles? They think they left their wallet in another state.
It took two days for the L.A. City Council to decide that yes, indeed, the Lakers will get a parade to celebrate their NBA Championship. (You mean it didn't already happen?) But only after they managed to round up enough private donors to reimburse the city for its cost. You know, since the the whole state of California is essentially a bankrupt suburban hellscape. Hmmm, I thought the Terminator guy who made Red Sonja was taking care of all that.
Rich people ... is there anything they can't do?
Anyway, head on down to the Staples Center tomorrow morning at 11 and watch Adam Morrison do a little dance. Suggested donation: $11 billion dollars. (Hey, it's for teachers.)
L.A. City Council to vote on Lakers' parade [Los Angeles Times]
Donors Fund Lakers Parade as Unions Say City Can't Afford Cost [Bloomberg]
Pittsburgh honors Penguins; 375,000 pack Downtown to cheer Stanley Cup champs [Pittsburgh Post-Gazette]
My Kid's Teacher is Being Laid Off [Mom Logic]