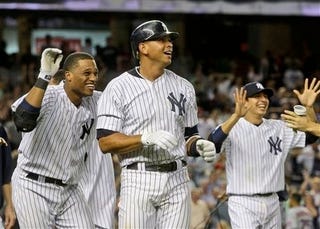 The non-shocking news that Sammy Sosa is a cheater is so outrageous (not really) that it almost makes you forget about....what's his name? Maybe this Yankee baseball player with the soft and supple handshake will distract you from all that.
You haven't heard much about Alex Rodriguez since he came back from his month-long DL stint, because he's mostly kept his mouth shut and hit the ball hard. But just to remind everyone that he isn't such a bad guy, A-Rod showed up at Monument Park before the Yankee game yesterday and spent some time with the group of about 50 fans who where there looking at giant plaques. He posed for pictures, signed autographs, and wowed strangers with his amazing skin care regimen.
After meeting A-Rod, one fan said: "He has soft hands."
Well, that's not so surprising when you think about it. What is surprising is this quote:
"It means a lot because it shows how humble he is to take the time out before the game because you know how serious it is," Asante Richards, 22, said. "It's kind of a surreal feeling. It won't hit you until later. It's a big deal."
When was the last time you heard Alex Rodriguez described as "humble"? It doesn't matter whether his visit was a contrived P.R. stunt—that stuff still works. Who wouldn't be excited to go to Yankee Stadium and get some face time with a future Hall of Famer? It's a classy move. You think Mickey Mantle would ever do that?
Actually, if you went to a bar before the game you probably could have met Mickey Mantle, but it would have cost you a shot or two.