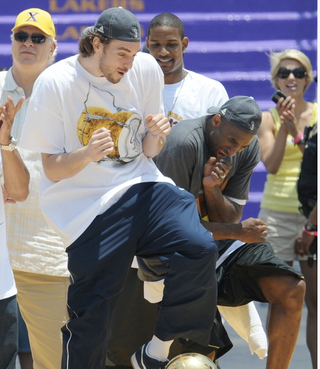 Goofy, gawky white guys lose control of themselves once they grace the stage at Memorial Coliseum to collect their trophies. Pau Gasol shows off his patented ostrich two-step and Kobe laughs at the Haters during today's public celebration.
But wait! Maybe Mark Madsen is not weeping. No, in fact he's reminiscing about that joyful day in 2001 when he stole America's heart with his clumsy clompity-clomping on stage during Shaq's victory rap. To Dana Belevedere, no less, who asked Madsen if he had any idea of how much he was embarrassing himself on stage:
"No...In fact, the only thought that went through my head was to tone it down and not be too flamboyant."
Success?
*****
Thank you for your continued support of Deadspin. Big brown beavers, activate.