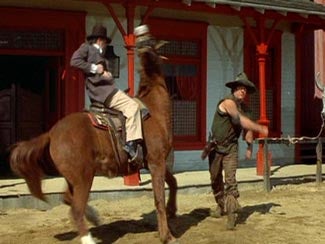 A veterinarian has been banned from Philadelphia Park race track for allegedly euthanizing a horse ... by shooting it in the head. Hey, that's just way they roll down in Philly. Deal with it.
Dr. Nick RivieraThomas Lurito has been barred from the raceway pending an investigation into the claim that he put down 4-year-old filly Rich and Mean by popping a cap in her head. (She had a bad knee that they couldn't fix.) Not that there's anything wrong with shooting horses in the head—it is effective!—but firearms are not allowed at the park. Otherwise, it would have been totally cool.
Though gunshot is considered an acceptable and humane method for euthanizing horses under standards developed by equine veterinarians, horses at racetracks and medical facilities are typically euthanized with an injection first of a sedative and then an injection of barbiturates - usually, sodium pentobarbital - to induce cardiac arrest.
Gee, that injection thingy seems awfully complicated. What does a bullet cost again?
Vet Ruled Off for Using Gun at Philly Park [Blood Horse]
Pennsylvania investigating shooting of horse [Thoroughbred Times]
Daily Racing Form (third item) [Press-Democrat]