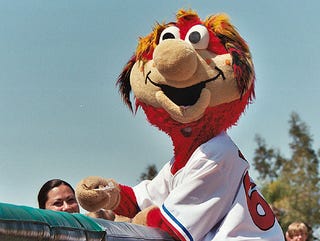 You've probably never heard of them, but the Dodgers' Class A affiliate is about to become the hottest ticket in minor league baseball. Inland Empire just might be the first stop on the Manny Being Manny Reunion Tour.
Manny Ramirez is eligible to re-join the Dodgers on July 3, but because being suspended 50-games for PED use is exactly like pulling a hamstring, Manny will go on a minor league "rehab" assignment first. The Dodgers indicated that his first game could be for the Inland Empire 66ers next Thursday. What the heck is an Inland Empire 66er? Glad you asked!
Where/what is Inland Empire? Inland Empire is the colloquial term for the eastern part of Southern California that does not touch the Pacific Ocean (i.e., the dry, dusty, annoying part.) The team plays its home games at Arrowhead Credit Union Park in scenic San Bernardino. Come for the freeways, stay for the brush fires! Their full official name is actually the Inland Empire 66ers of San Bernardino, which makes the Los Angeles Angels of Anaheim seem quaint.
What's a 66er? Route 66, dummy. Yes, they are named after a road that symbolized independence and adventure for a entire generation of annoying beatniks. Ask your dad.
Why would anyone play baseball in San Bernandino? The team actually relocated from Salinas after relocating from Fresno, two other hot beds of hardball. They've also been known as the Spirit and the Stampede, which are just as non-threatening as a two-lane highway.
Dear God, what is that thing? That's Bernie, the San Bernandino ... guy? According to his bio, Bernie was originally the mascot of the Utah Grizzlies, even though he does not appear to have any bear-like qualities. Looks like a damn dirty hippie to me.
Are these guys any good? No! The 66ers are currently 3rd in the California League South Division, 13 games back.
Is Manny the best player that will ever wear their uniform? Almost. Ken Griffey Jr. played 58 games in San Bernardino, but that was actually a different organization that relocated to Rancho Cucamonga and sold their nickname to the current S.B. team. Other notable alumni—of the town, if not the exact team—include Felix Hernandez, Adrian Beltre, Mac Suzuki, Paul Konerko and Mike Hampton, who may or may not be there on a rehab assignment right now.
So that's all you need to know, really. Starting next Thursday they play three at Lake Elisnore followed by a homestand against the rival(?) Rancho Cucamonga Quakes, all within driving distance of Manny's Pasadena home. So get your kicks with Inland Empire. Unless the Dodgers change their mind and I've just wasted all of our time.
Inland Empire 66ers [ie66ers.com]
Joe Torre: Manny Ramirez could start at Class A next week [ESPN]