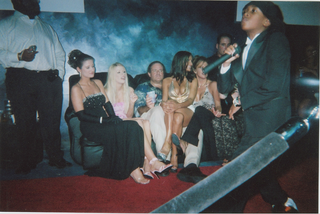 Big day for Bermans on this site. Chris Berman has officially become part of the Hollywood Walk Of Fame. One can only hope that the young boy singing for him in this infamous photo shows up to the ceremony.
The Berminator goes in as part of the television class, which also includes Bill Maher, Jon Cryer, Julia Louis-Dreyfuss, Peter Graves and others, but his star won't officially be cemented into Hollywood Boulevard until 2010. I hope The Kinks reunite to do an updated version of "Celluloid Heroes" to commemorate this event: "But don't walk through Berman's sight-line, or he may yell at you, he'll scream and curse and turn all red, until you bring him a deux, deux, deux..."
****
Thank you for your continued support of Deadspin. Enjoy the rain.