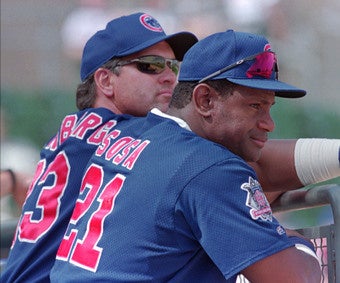 If you are currently in the Hall of Fame and anywhere near a microphone, please state your preference on whether "steroid era" players deserve plaques like yours. Ryne Sandberg is the latest to go on record with a "no."
The Cub legend appeared on the "Waddle & Silvy" show on Radio DisneyESPN 1000 to talk sports, so of course, he was asked about his former teammate Sammy Sosa and his supposed steroid use. Does he belong in the Hall of Fame? Ryno says, "I don't think so."
"It's something that's against the law and against society," Sandberg said. "It was cheating in the sport.

"I think it has to be spoken very loud and clear on the stance, and baseball needs to stand as they have. I'm very, very satisfied with the testing program they have in place now. For a guy who's tested positive today under what happens now, like Manny Ramirez, it almost takes an idiot to participate in that. For the society, for the up-and-coming players and youth out there, I don't think those guys should be recognized at all."
Won't someone please think of the society? But surely Sandberg, who played with Sosa for five seasons in Chicago, must have known something was amiss?
"I was around Sammy for about five years before I retired, and there wasn't anything going on then," Sandberg said. "I did admire the hard work he put in. He was one of the first guys down to the batting cage, hitting extra. I figured he was working out hard in the offseason to get bigger. It was just happening throughout the game, that even myself was blinded by what was really happening, maybe starting in the '98 season.

"I think it's very unfortunate. I think suspicions were there as they are with some other players. Those players are now put in a category of being tainted players with tainted stats. I think it's obviously something that was going on in the game. Players participated in it and, as the names have come out, I think that they will be punished for that."
So nothing then? No suspicion over power jumps like say ... going from 19 to 30 to 40 home runs over three seasons? Or hitting 14 over the course of two years, taking a year off, then hitting 25 the next season? I'm not insinuating anything—because that would be wrong—but geez with all those "tainted" players ....
Hall of Famer Ryne Sandberg says Sammy Sosa doesn't belong in Hall [ESPN Chicago]
Ryne Sandberg: Sosa doesn't belong in Hall of Fame [Sports Pros(e)]
Manny Ramirez gets cheers, goes 0 for 2 in rehab game [ESPN]