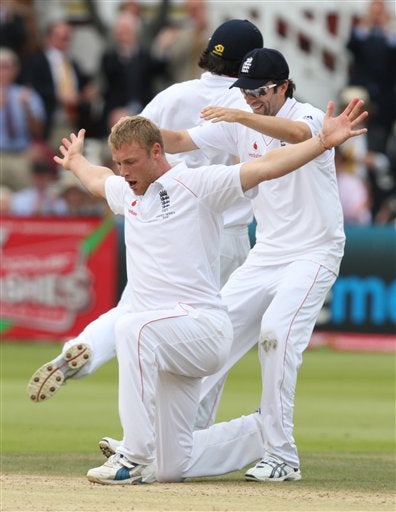 Got an image you'd like to see in here first thing in the morning? Send it to tips@deadspin.com. Subject: Morning crap
Caption: England's Andrew Flintoff, kneeling, claims the wicket of Australia's Peter Siddle during the final day of the second Ashes Test cricket match at Lord's cricket ground, London, Monday July 20, 2009. (AP Photo/Tom Hevezi)
I have no idea what that means or what is happening in this photo. But I did learn there are five tests in this historic ongoing series between England and Australia, each test lasts five days (as you know) and the first test this year was a draw. A five-day sporting event that ended in a draw. Hard to believe that cricket hasn't caught on here in the States. I will now go microwave my breakfast.
* * * * *
Welcome to Monday. I studiously avoided the internet since Friday afternoon, but I assume nothing interesting happened anywhere.
Wait ... there's Americans ... there's Americans on the moon?