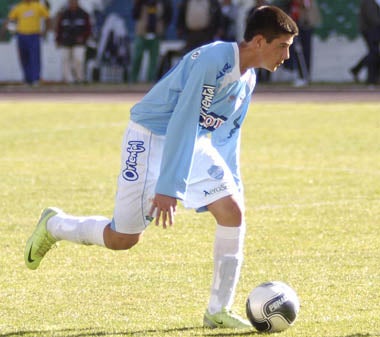 Mauricio Baldivieso turns 13 tomorrow. As an early birthday present, his coach got him into the game for a first-division Bolivian soccer side. Did we mention the coach is his father?
At 12, the younger Baldivieso is the youngest man boy to ever play top-level soccer, even if it was in Bolivia, God's blind spot. His father, Julio Cesar Baldivieso, is the grossest perpetrator of sports nepotism since, well, Chris Duncan grounded into a game-ending double play last night.
Club Aurora sent on Baldivieso as a sub with nine minutes remaining in Sunday's game, and it was a fairly representative sample of what you'd expect when a prepubescent child plays professional sports with grown men. At the 0:35 mark, he is the recipient of a rough tackle, and comes up crying. And not normal, Serie A-style crying to the ref. Literally crying like a 12-year-old boy.
Hey, it elicits more sympathy from me than diving.

Bolivian Makes Football Debut Aged 12 [ITN]