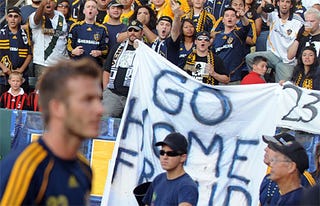 The L.A. Galaxy fan who leapt out of the stands to answer David Beckham's challenge may face a fate worth than jail or death—a lifetime ban from the Home Depot Center. Even for the Vans Warped Tour?
Josh Paige was the member of the "Riot Squad" section who was hauled off by security during the Galaxy's friendly vs. AC Milan, after he jumped out of the stands to confront Beckham. Of course, Beckham went over to the section first and appeared to challenge the fan, so he wasn't exactly an innocent victim. However, for his crimes, Paige will never be allowed to return to Carson, California's most glamorous Olympic training facility.
Imagine being denied the right to attend the L.A. Women's Tennis Championship or X Games 15 or ... that's it really. Oh, I guess there's the soccer games, which this guy obviously lives for because he's a registered member of the "Riot Squad." But still ... it's the Home Depot Center. Who are they turning away?
Fan pays for Beckham confrontation with lifetime ban [USA Today]