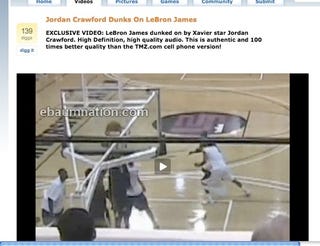 So eBaum Nation got its hands on a nice, clear video of the disappointingly pedestrian Forbidden Dunk, and all TMZ got was some jittery cinéma vérité that might as well have been video of the Sasquatch. How'd that happen?
Turns out eBaum merely found an entrepreneurial videographer with a steadier hand. In an e-mail, Mike Parker, who works in the content department at eBaum, writes:
We did purchase the video, for an undisclosed amount, from a local cameraman who travels to different basketball camps across the country. The deal has been in the works for a week or 2 now, and with the TMZ announcement we obviously wanted to seal the deal ASAP.
He adds that TMZ was tipped that eBaum had a copy, too, which probably explains why TMZ's much-hyped 6:45 p.m. screening was bumped up a few hours, despite its original excitably punctuated announcement.
Jordan Crawford Dunks On LeBron James [eBaum Nation]