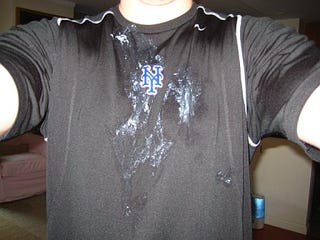 Got an image you'd like to see in here first thing in the morning? Send it to tips@deadspin.com. Subject: Morning crap
It's not even fun to slam the Mets anymore, but I did enjoy this story, given the current smoldering pile of crap that Bastard team from Queens is:
This was taken back in March when my newborn daughter was 5 weeks old. I started talking about the upcoming baseball season with her (as a first time father AND baby holder, I didn't know how else to communicate but through regular conversation), and asked her how she thought the Mets were going to do. Literally 5 seconds after asking, she projectile vomited all over the shirt. She's a pretty smart kid.

(H/T: Longtime reader Jason M.)
****
And good morning. It's Friday. Throw your head back and put some ice on that.