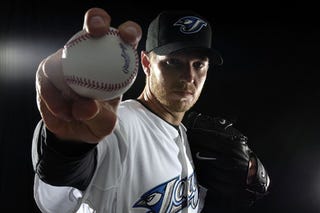 The Phillies were all but guaranteed to land the Greatest Pitcher Ever at some point this weekend, but Blue Jays' GM J.P. Ricciardi's now justifiably hard-balling. Impasse!
Plus, it's starting to fluster J.A.(y) Happ, who seems destined to head to Toronto if the Phillies can manage to throw enough Future into the pot. Then ESPN's A.J. Mass trots out this theory: the Phillies are awesomer than awesome right now and do not need Halladay to be awesomest. (I'm paraphrasing.) Mitch Williams is convinced the Phillies can repeat if they land Roy. The Phillies are reluctant to part with both Kyle Drabek and J.A. Happ. Take one, just not both they say, even though as Jayson Stark sagely points out, neither one of those guys will ever be Roy Halladay. Thank you, you hair-helmeted beacon of reason.
The worst thing the Phillies could do here is dick around too much and then end up overpaying for Cliff Lee, Zach Duke, or Jarrod Washburn. That would be disastrous. Oh, and whatever happened to Mike Grace?