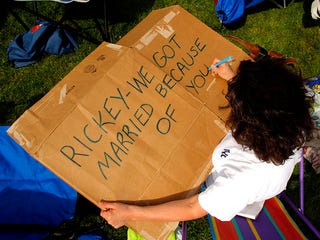 In some countries, marriages are arranged. But in America — where love reigns supreme — Rickey Henderson has the power vested in him to unite man and woman, reports this piece of cardboard.
So Elise and Dave went to Cooperstown to see Henderson and Jim Rice into the Hall of Fame because, according to the Wall Street Journal's Photo Journal, the happy couple met through a discussion about Henderson. How exactly that fateful conversation led to holy matrimony, we here at Weddings & Celebrations aren't quite sure.
On a related note, Henderson said in his induction speech that he would like to be remembered as "that kid from the inner city that played the game with all his heart and never took the game for granted." Till death do they part, one happy couple might instead envision him simply as a mensch in a babushka.
It's not like young people can decide these things themselves.
*****
Thank you for your continued support of Deadspin Styles, brought to you by the KissCam. If princess cards are all you've ever wanted, then this one's for you.
,