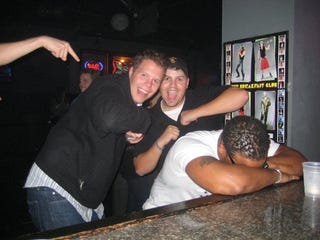 Jamal Anderson doesn't need this agita. A cocaine possession charge in February, and now somebody's hacking into the former Falcon's Facebook account? Well, at least that's what he'd like you to believe.
We pick things up with an eyewitness account from one of Anderson's Facebook friends:
Last wednesday I got a facebook chat from Jamal Anderson around 6 AM asking for my phone number which I obviously did not give out. He then went on to tell me that he had a couple women coming over, one of them was a big girl but the rest were bangin and then he started complaining about why women think a big man can't handle multiple women. He would go on to talk about his penis and how he could totally handle multiple women. He told me that he was considering going into porn under the name Axel Steelcock as a play on the character from Guitar Hero.
Fearing for Anderson's mental health, or perhaps his physical well-being had Jamal done the Dirty Bird with said "big girl," our tipster checked up on him. This was his response.
No, Jamal. Hope all is well with you.