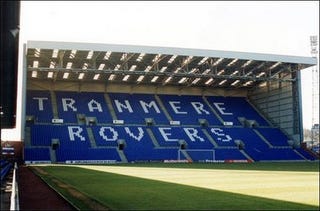 When the owner of an English soccer team wanted to sell the franchise, he turned to a US firm to set up the deal. When that firm wanted to locate a buyer, they turned to...eBay? *recordscratch.wav*
The Tranmere Rovers play in League One, which makes them the equivalent of a AA baseball team. Fittingly, they appear to have hired a minor-league corporation, Dornoch Capital. Dornoch made sure that potential buyers would have years of managerial and executive experience, or at least a 28k modem.

We were appalled," [Tranmere owner Peter] Johnson told BBC Radio Merseyside.

"It's totally inappropriate. We immediately e-mailed them and said 'take it off right away'."

Johnson added: "You can imagine how shocked we were to wake up this morning to find out we were on eBay."
The bidding was opened at $10 million (with free shipping!). There were no bidders.
It could have been worse. It could have been up on craigslist.
Tranmere Owner Fumes At eBay Sale [BBC]
Screengrab via SportsbyBrooks