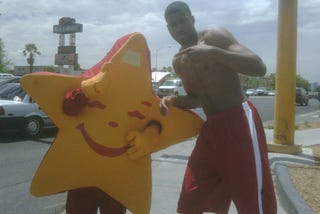 Got an image you'd like to see in here first thing in the morning? Send it to tips@deadspin.com. Subject: Morning crap
Rudy Gay explains this picture thusly: "Had to do it yall." You know what? That makes perfect sense. You're walking around without a shirt on and you see the Carl's Jr./Hardees mascot, you just gotta do it y'all. When opportunity comes knocking, you don't question it.
[pic via MLive/Twitter]
* * * * *
Welcome to Friday. Try the goose web.