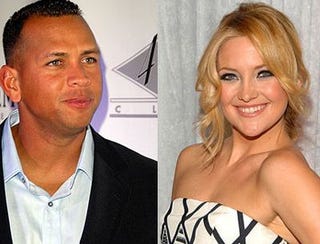 TKACIK: how are we supposed to have an opinion on kate hudson and arod
PAREENE: hahaha i don't know
TKACIK: apparently the news here is that "very public smooching puts to rest rumors that Rodriguez, 33, and Hudson are just close friends"
PAREENE: i know how often i had heard the rumor that they were just close friends
TKACIK: it seemed so credible, at the time…
PAREENE: to be honest i feel almost ashamed to be a part of the industry that spread that rumor, of the close platonic friendship of a-rod and kate hudson
TKACIK: i know, it is like how scott mcclellan probably felt about the whole valerie plame thing
except worse, because at least valerie plame really was a spy
PAREENE: it's basically judy miller all over again. i want to see heads roll.
TKACIK: oh wait here it also says: "Notably absent from the family fest was A-Rod's ex-wife Cynthia Rodriguez."
at least someone in this discredited industry still remembers how to take "notes."
PHOTO: The Insider