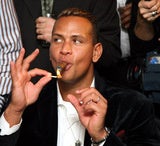 The economically-inclined folks at The Wall Street Journal have taken the time to quantify this sobering figure: It takes A-Rod 6 pitches to make $100k.
And if that won't suffice as a reminder of our inferior earning power, please note that it takes Ben Roethlisberger just 3.6 snaps to pocket 100 large. Lebron does it in 21 floor minutes; Tiger in 11.2 holes of golf.
And then comes this questionable claim: from the WSJ: "Nascar's Tony Stewart may have to work the most to pay his bills — needing to navigate the oval 124.8 times to make $100,000."
Meanwhile, Roger Federer must grunt his way through 28 games of grueling tennis to match what Tony Stewart earns for turning left. You be the judge.