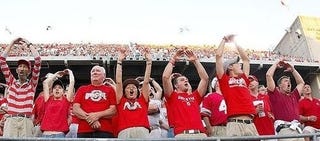 Ohio State is graciously allowing a service academy to play football on its field this season and also politely requests that their fans not mercilessly rain boos, slurs and D batteries down upon the Midshipmen as they take the field.
Columbus will host Navy in the season opener on September 5 and to prepare, the school is actually launching a public service campaign, asking those in attendance to stand up and cheer for the opponent before the game. You know, because of the whole "laying down their lives in the darkest corners of the world so that you can sit on your fat candy asses and watch football all day" thing.
I like to believe there was a time when you would not have had to remind your audience that booing the military is impolite, but we are talking about Ohio Stadium. They'll burn that place to the ground before they acknowledge the Coast Guard!
Take the Field Tribute Video by Ohio State Implores Buckeye Fans to Give Ovation to Navy Football Team [Midwest Sports Fans]