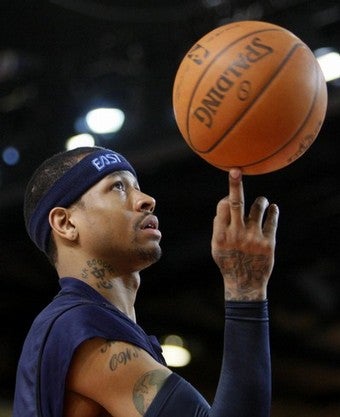 The Memphis Grizzlies confirm they have offered a contract to Allen Iverson, because the best way to bring along a young, unpolished team is to add a shoot-first point guard with no patience for teaching.
The Grizzlies have not been shy about the fact that they have pursued Iverson for only one reason—to sell tickets. There's probably some questions about whether the 34-year-old coming off the worst season of his career can still do that. Especially when he's on the bench because he's just realized what a futile endeavor it is trying to play basketball in Memphis. Does anyone really think this ends well?
The deal is not done, because Iverson would probably prefer to play elsewhere, but it's doubtful that anyone else can offer him decent money. So is this how he goes out? A journeyman picking up scraps from basement dwellers? Or will he find a way to make himself a role player, taking a substantial pay cut to blend in with a winner?
Well, we're talking about Allen Iverson, so what do you think?
Memphis Grizzlies GM confirms making offer to Allen Iverson [ESPN]