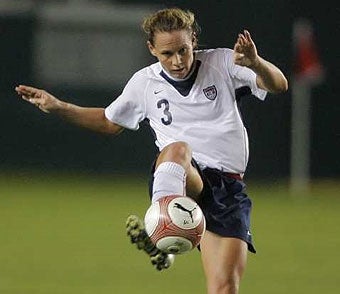 Sky Blue FC won the first Women's Professional Soccer League championship last weekend, but didn't find out until the champagne celebration that their coach-slash-captain, Christie Rampone, is three months pregnant. No, she didn't play barefoot.
Rampone, who is also the captain of the U.S. national women's team, was forced to take over as coach after the team (which has only been in business since March) had already lost its second coach of the season. They rallied to snag the last spot in the playoffs, then beat the league's top three teams, all on the road, in eight days. Then she drove the team bus to Dairy Queen and bought everyone Blizzards.
It wasn't until teammates started bugging her about not drinking during the celebration that Rampone finally admitted that she was 11 weeks along. Oh, and she had surgery for a ruptured ovarian cyst in July. What did you accomplish this summer?
Yeah, maybe those NFL players are a bunch of pussies.
Christie Rampone, captain/coach of champion Sky Blue FC, expecting second child [NJ Star-Ledger]
Christie Rampone: Ultimate Soccer Mom [Fanhouse]
Oh, baby: Christie Rampone's happy secret [LA Times]