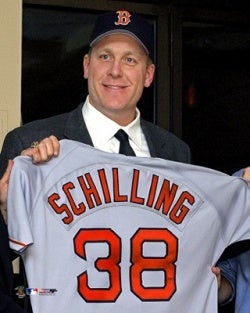 Sure, Curt Schilling has all the trappings of a politician: he's a smug, self-righteous blowhard with a penchant for fondling other people's wives. But is he shameless or delusional enough to gun for Teddy K's vacant Senate seat?
Maybe so. Schilling announced on his blog earlier today that he does have some "interest in the possibility."
Of course, Curt is a Republican, has no political experience and would be running in a Democratic state in the footsteps of a deceased hero —but hey, I'm not one to second guess Curt Schilling.
Senate hopeful of the day: Curt Schilling [Boston Globe]