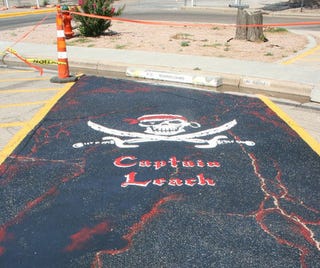 Got an image you'd like to see in here first thing in the morning? Send it to tips@deadspin.com. Subject: Morning crap.
Texas Tech boosters who have donated their hard-earned oil dollars to their favorite school's athletic department can rest easy knowing that $20 has been put to good use. A bucket of black paint and some used pirate stencils and head coach Mike Leach has himself a new parking spot. It's about time, if you ask me. How they even called themselves a football program before this moment is beyond me.
It's just too bad that Graham Harrell didn't live to see this.
Mike Leach's Parking Spot Gets a Makeover [Wiz of Odds]
* * * * *
Good Morning, Thursday. How about Cobain as Bon Jovi? This one's for Emeritus because his angst amuses me.