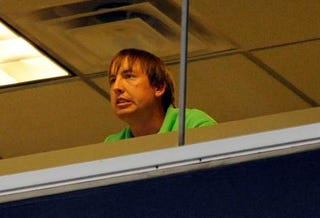 Got an image you'd like to see in here first thing in the morning? Send it to tips@deadspin.com. Subject: Morning crap.
The Broncos won their final preseason game—a pivotal matchup against the Cardinals that signifies absolutely nothing— despite not having the services of Cowboy Kyle Orton who injured his dialing finger in the last game. He was reduced to being just an observer. An interested observer. A very interested observer. Or maybe just a confused one?
Ironically, that's the face most Bronco fans make everytime Kyle Orton drops back to pass. "Yeeesh!"
Broncos' backups salvage finale [Denver Post]
* * * * *
It's Friday. Grab your headbands and neckerchiefs so we can get this over with.