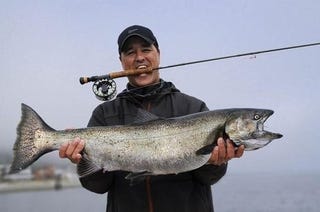 Got an image you'd like to see in here first thing in the morning? Send it to tips@deadspin.com. Subject: Morning crap.
Yes, that is Seattle manager Don Wakamatsu proudly showing off a seventeen-pound salmon he caught earlier this week. But will this photo be enough to assuage the doubts of a certain cynical team elder statesman?
"I think I saw the price tag on it," [Ken] Griffey [Jr.] said.
Jealousy will get you nowhere, The Kid. Here's hoping the bitterness didn't affect Griff's enjoyment of Wakamatsu's prized catch, which he generously made part of the team's post-game meal.
Elsewhere in the American League, Jim Leyland left a half-finished pack of Marlboros on the clubhouse buffet table. No word yet on whether this was a reward for the Tigers' six-game division lead, or if he simply misplaced them.

Mariners manager Don Wakamatsu lands 17-pound salmon [Seattle Times]
*****
Good morning, fellow labo(u)rers! What say we spend this beautiful late summer day relaxing and steeling ourselves for the winter months ahead?
I think my basset hound has been reading my mail.