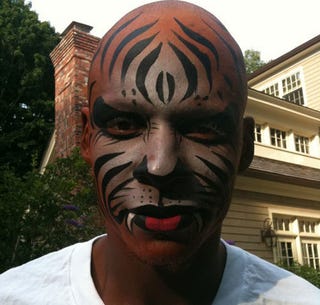 Got an image you'd like to see in here first thing in the morning? Send it to tips@deadspin.com. Subject: Morning crap.
Should we be worried about Ray Allen? A long offseason can occasionally mess with an athlete's head and I'm a little concerned that the pressure of a life without basketball has finally gotten to him. Like in a "head into the jungle and become the messianic leader of a violent doomsday cult" sort of way. Maybe Ray Ray needs a hug?
Oh, there was a face painter at his son's birthday party? Well, that still doesn't make it right.
Ray Allen is Officially Bored This Offseason [RedsArmy]
* * * * *
It's Wednesday. You're gonna die.