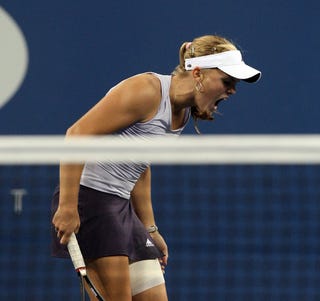 Because no one reads the newspaper, and SportsCenter's anchors are too perky for this early in the morning, Deadspin combs the best of the broadsheets and the blogosphere to bring you everything you need to know to start your day.
•What kind of Cinderella story ends on a Wednesday? Melanie Oudin's, apparently. But no worries. She lost to Caroline Wozniacki, who's cute and legal.
•In other Oudin news, did she look a little distracted last night? It might be because an affair between her tennis coach and her mother broke up her parents' marriage.
•For every tackle of Michael Vick, a Philadelphia animal rescue will donate 5 bags of dog food to a shelter in the opposing city. Perhaps not helping the cause of fighting animal cruelty, 5 bags of dog food exactly equals one losing racehorse.
•Derek Jeter ties Lou Gehrig atop the Yankee hit list at 2,721. Now all he needs is to get one more hit and/or live past 37.
•Swine flu decimates Ole Miss, sidelining 27 players. Initial suspicion has settled on coach Houston Nutt, known for spending time among Razorbacks.
•US Soccer pulls out a much needed win in World Cup qualifying. And if you deny that CONCACAF is trying to make the Yanks lose, how do you explain scheduling them against Trinidad AND Tobago?
•Like chicken wings? Not anymore you won't:
Click to view