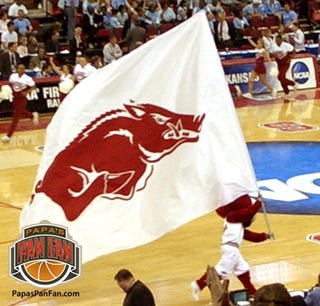 No charges will be filed against three Arkansas basketball players accused of raping an 18-year-old girl, a matter to which one Razorback alluded earlier in the week in a LOLlingly idiotic Tweet.
The case itself is plenty cringe-worthy. It had already "raised the specter" of the Duke lacrosse episode, in the overcooked words of the Associated Press, and meanwhile the Arkansas Times was reminded of the infamous "dorm incident" in 1991 under Nolan Richardson. Here's the Times' account:
A freshman had been at the fraternity and drinking at a party. About 1 a.m., she went to a bedroom with about 20 people, three of whom were UA basketball players.

She said she didn't remember a lot. She said she had been drinking and players forced her to perform oral sex.

UA police interviewed suspects, who gave voluntary statements. Accordng to [deputy prosecutor Dustin Roberts], "they did not contest the fact that sexual acts had occurred." Two said they were provided oral sex and masturbation. A fraternity member confirmed ths, Roberts said.

The fraternity member opened the door, which had been locked, and saw the woman bent over. Two basketball players were on a couch. "She was giving oral sex to one and masturbating the other," Roberts said. "A third one was behind her dancing." (The police investigative report quotes a witness as saying the third male was "rubbing against her buttocks with his pelvis".) After seeing that, the fraternity member asked for all four to leave.

According to Roberts, the woman "gave a statement to the fraternity member to the effect that 'we didn't do anything wrong.'"

After that everyone left. Police interviewed a number of witnesses who said the woman had been drinking, but was coherent.
Word of the investigation broke yesterday, and within hours a prosecutor, John Threet, had announced he wouldn't press any charges against the players. Maybe the accusations were indeed groundless, but I'm having a hard time following prosecutors' reasoning here:
But Threet said witness interviews and statements from the woman didn't show that she was unaware a sex act occurred or that she was unable to say no - circumstances that could lead to sexual assault charges.
And here's what his deputy said:
To prove rape in this case, [Dustin Roberts] said, the prosecution would have to show the woman was intoxicated to the "point that she was incapacitated and could not give consent." Or, he added, "was passed out." He said, "We're talking someone falling down drunk, not someone coherent and there were statements that she was coherent."
That's an awfully narrow definition of rape and seems to ignore the possibility of "forcible compulsion," in the words of Arkansas Code 5-14-103. In any event, prosecutors initially seemed ready to proceed with the case. Roberts told television station KHOG that charges could be filed as early as Wednesday afternoon, but Threet later walked back his deputy's comments, saying, "I'm going to assume somebody got something confused or something." And it was left to Roberts to wrap everything up with a tidy little moral: "When college students and alcohol are involved, it's a bad combination for everybody."
Nevertheless, at least one Razorback found some humor in the episode and chose to share it with the Twitterverse. Cfortson4 is apparently sophomore guard Courtney Fortson, and here, via Tweleted, is what Cfortson4 had to say on Monday:
Im gettin it at workouts like a dude who doesnt understand the word no from a drunk girl lol
Woo pig sooie!
No charges in UA rape complaint [Arkansas Times]
Prosecutor: No charges in alleged Ark. rape case [AP]