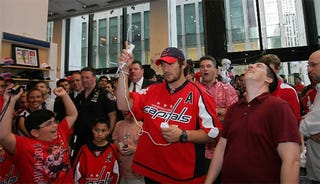 Alexander Ovechkin stopped traffic yesterday so he could drive a Zamboni down Manhattan's Sixth Avenue and then school me in some video game hockey. Not as fun as doing 180 with Rachel Nichols riding shotgun, but it was only Wednesday.
Believe it or not, NHL training camps open this weekend and that means press junkets galore. Ovechkin is the cover boy for 2K Sports' NHL game this year, so that seemed like as good a time as any to invite a couple of pasty-faced bloggers out of their basements for a little throwdown. In Russian!
Since he was on roughly Hour 36 of his whirlwind tour, Alex wasn't that talkative (unless you talk Russian), but he was very interested in winning the games. He seemed genuinely upset when some kid—who won a video game tournament to get there—bested him in the first game. (He demanded a rematch.) Fortunately for him, I did not put up such a valiant fight.
Yes, I lost. BUT! He had already played two games against other people and I think that he was able to use that valuable game experience against me. Also, he had the crowd behind him (the fans at the NHL Store loved him and he was mobbed with every move he made) and his handlers supplying him with water mid-game. Water! I did not receive these valuable performance enhancers. Plus, who wears a jersey with their own name on it to a game? Come on!
AND! I didn't want to point this out to his face lest I get a mouth full of Wiimote, but before our game he "inadvertently" switched from the Capitals to the Penguins—and then scored two of his goals as Sidney Crosby. I'm not sayin' ... I'm just sayin' is all.
I have many more excuses if you'd like to hear them.
(Top Photo: Michael Cohen/Getty)
Ovechkin Dismisses Boomer Esiason, NYC [D.C. Sports Bog]
Alexander Ovechkin made his way through NYC in style to promote NHL 2K10 [NHL.com]