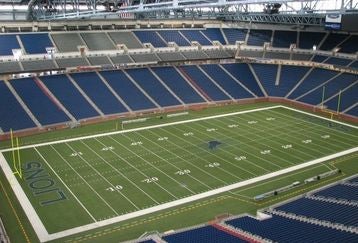 Blackout rules mean that if your local NFL team sucks, you don't get to watch their games live. Now by letting you watch the game "on a delayed basis," the league is acting like they're doing your a favor.
The NFL will be archiving this season's games online so that you can "replay" them, on demand, for a small subscription fee. But if your local game happens to be blacked out some weekend, then they won't charge you to watch that game. You just have to wait until after midnight, while also avoiding all football-related media—including NFL.com—that will inevitably reveal any important details to you. Thank you so much, gracious masters.
In a statement, the league says they "understand that the economy is limiting some families and corporations from buying as many game tickets as they had previously," so the free games let you see what you're missing. Of course, if America is bankrupt then denying local fans the live broadcast doesn't really earn the league any more cash, does it? (Has it ever? Do people with no plans to attend a game ever change their minds and shell out for tickets simply because of TV?)
Watching the re-broadcast the next day—but not during Monday Night Football, kids!—isn't really helpful to the kind of people who take advantage of this service. What are you going to see that you can't get from the 40 national and local highlight shows immediately following the game? It just allows the NFL to sound awesome and generous, without actually being that way.
Plus, I'm pretty sure that I still can't get NFL Network in my cable package so screw everyone.
NFL.com to show blacked-out games free in local markets on delayed basis [NFL.com]