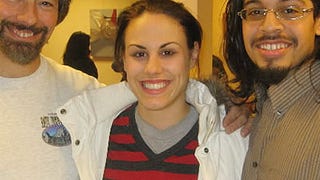 Not news: The Hartford Courant is planning to hire a new blogger to cover UConn women's hoops. News: said blogger's name is Alysa Auriemma. Conflict of interest much?
The Courant's plan was for Alysa to "offer her unique observations online monthly about the team and her life as the daughter of the coach." They would pay her $125 per post, the going rate for a freelancer; that sounds about right for a reporter, but shows that editors still haven't figured out just how easy this blogging thing is.
The AP, in a rare move, passed judgment on the hire while reporting it:
The move was questioned by a journalism ethics expert and media observers of the Courant, which has come under fire in recent weeks for allegedly stealing news stories from competitors and allegations that it dismissed its consumer columnist because he wrote columns critical of advertisers.
Today the paper fired back. In a blog post the sports editor Jeff Otterbein laid out his position:
The Courant never expected that Auriemma could or would cover the team as a reporter. The first two online exchanges were in a question-and-answer form. A future format had not been decided. In the beginning there was no discussion of payment but when Alysa Auriemma asked, I thought it fair to pay her $125 for each installment on the website, an amount we routinely pay a freelancer. I thought that if she took the time she should be compensated.

The intent was never to curry favor with Geno Auriemma. We have had our battles over the years and fully expect to have more when we write something he disagrees with. In fact, in my 20 years as sports editor, we have weathered major disagreements with Auriemma, UConn men's basketball coach Jim Calhoun and UConn football coach Randy Edsall. It's the nature of the business.

...

The question remains if paying the daughter of the coach to contribute to the website is a sound decision. I thought we were giving the UConn fans a slice of something they could not get elsewhere - a unique view, an entertaining view. We will re-evaluate the relationship going forward and are interested in our readers' opinions.
Looking back over her recent posts, in which Alysa has given her opinion on topics ranging from the Jersey Shore to her weight loss to spaghetti sauce with her father's picture on it, makes me think there won't be much of a conflict of interest in the upcoming season.
But, A.J., did you see that part about the $125 per post?
Newspaper Hires Geno Auriemma's Daughter to Cover UConn Women's Team [AP]
Courant Sports Editor Jeff Otterbein On Alysa Auriemma [Hartford Courant]