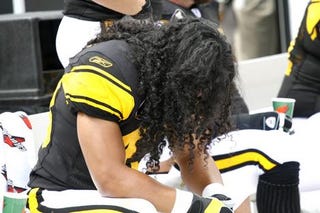 Because no one reads the newspaper, and SportsCenter's anchors are too perky for this early in the morning, Deadspin combs the best of the broadsheets and the blogosphere to bring you everything you need to know to start your day.
•Halfway through a wholly unexciting opening night, Troy Polamalu sprained his MCL and could miss 3-to-6 weeks. Steeler fans' humility, however, is listed as doubtful and is expected to report to your office this morning to brag about the game.
•The lawyer for Ben Roethlisberger's accuser says he could ask for a list of all of Big Ben's sexual partners. If just one native Pittsburgh girl is on that list, I'll lose all respect for him.
•Would it shock you to learn that Manny Ramirez has no recollection of ever playing with Jim Thome, his teammate of eight seasons? Well, prepare to be not shocked.
•The Daily News passes along the rumor that Cablevision will offer LeBron James his own TV channel if he joins the Knicks. I know I've used the buddy-cop-show joke before, but I would pay good money to see him fight crime with Darko.
•Two missed practices, and Richard Seymour is nowhere in sight. Still, this is Oakland, so maybe he was just carjacked.
•A judge has raised the possibility that neither Jim Balsillie nor the league will be allowed to purchase the Coyotes. A suggestion: disgraced Predators owner Boots Del Biaggio, in lieu of jail time, be sentenced to buy the Coyotes.
•Maya Angelou gives her predictions for the NFL season, in poem! Obviously it's not really her. But it's a sight better than Gregg Easterbrook's horrible haikus.
•Finally, though my feelings on poker can be summed up as "not a sport," this is the most amazing read you'll ever see: