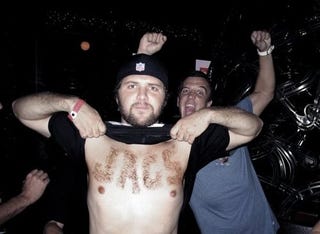 Got an image you'd like to see in here first thing in the morning? Send it to tips@deadspin.com. Subject: Morning crap.
That headline barely won out over "We've Sighted A Jags Fan!" which, to be honest, is just as newsworthy. Today's Jacksonville-Arizona tilt goes down as the first blackout of the 2009 season, with 10,000-15,000 seats still unsold.
How can someone get so crazy over the Jacksonville Jaguars? I can understand going all out if you've got a great team. I can understand it if you've got a shitty team, if only for irony's sake. (My friends and I used to paint our faces for Temple Football games. True story.) I can understand it if you've got a team steeped in tradition, like the Raiders. Or even if you've got a new team, like the Texans, and you're trying to create a fan identity.
But the Jaguars? I can't think of a more vanilla, middle-of-the-road team.
*****
It's Sunday. Time to go nutso for whichever is your shitty team.