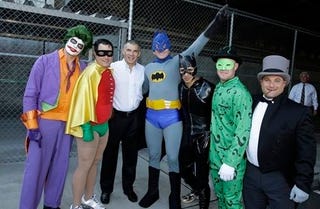 Got an image you'd like to see in here first thing in the morning? Send it to tips@deadspin.com. Subject: Morning crap.
Most teams goof on their rookies by forcing them to dress up like whores or people from the '70s or stuffed animals or something like that. It's all part of the "bonding process" that players say helps build trust and camaraderie among teammates, but it's really just an excuse to humiliate people with less seniority than you.
Of course, the Yankees had to go and dress their rookies up as comic book characters—which is actually kind of cool for them. I mean, that Riddler suit is pretty slick. Who wouldn't want to wear that out to the club some night? Only a couple of them got stuck wearing codpieces and even Catwoman (shortstop Ramiro Pena) has a dignified air about him. The only guy I really feel sorry for is the dude who had to dress like Joe Girardi.
[Photo: AP]
* * * * *
Oh, Tuesday. You're all I want and more.