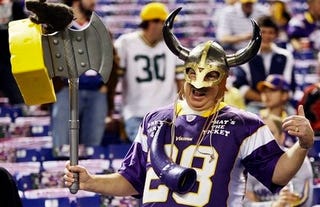 Got an image you'd like to see in here first thing in the morning? Send it to tips@deadspin.com. Subject: Morning crap.
Yes, yes. He did it. Kid out there. Just loves the game. Vintage. Classic. Like old times, etc. We got it. Brett Favre is not an incompetent football player. Of course, neither is Aaron Rodgers. If only Favre hadn't personally sacked him 14 times, the Packers just might have pulled it off. Maybe next time.
But what does the internet think?
Yeah, that's what I thought.
My favorite part of last night, though, was when Mike Tirico could not stop raving about Adrian Peterson's handshake ("the strongest hands you'll ever find") while simultaneous having to admit that "All Day" fumbles more than any other running back in the league. You could almost hear his brain grind to a halt as he tried to reconcile those two ideas. I guess a football is slightly larger than Mike Tirico's hand. (But not as silky smooth!)
* * * * *
Anyway, that's the end of the Favre talk (from me anyway), but it's just the beginning of our Tuesday. Let's do it.